Message from the Dean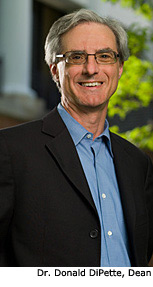 The School of Medicine has initiated a strategic planning process, the first such school-wide initiative undertaken in over a decade to ensure that decisions made in the months and years ahead are aligned with the medical school's vision and mission. I consider the strategic direction of our school and developing the actions plans for success as the most important task we face as leaders of our institution. These are exciting times filled with significant challenges and we have a wonderful opportunity to set a successful course for the next ten years.

Task forces have been assembled to examine the opportunities in eight major areas:
•Academic Medical Center
•Resource Generation
•Medical Class Expansion and Curriculum Review
•Clinical Practice Expansion
•Research Expansion
•Space/Facilities Expansion
•Organizational Function
•Standards of Professionalism
This is an exciting time at the University of South Carolina School of Medicine. In the months to come, we will work together to determine the best way for the school to move forward. We will keep the medical school community informed of our progress.


Donald J. DiPette, M.D.
Vice President for Medical Affairs
Dean, School of Medicine