Special Instruction FYI
Welcome to The Special Instruction FYI page! This page of the TECS website is devoted to the interests of:
v Professionals who provide special instruction within South Carolina's Part C early intervention system, and
v Families who receive special instruction services as part of their Individualized Family Service Plan (IFSP).
The purposes of this web page are to:

Promote among families and professionals a shared understanding of the meaning of "special instruction" as a Part C early intervention service,

Support Special Instruction providers in their work by offering convenient access to current information that is relevant to their work with families,

Encourage the use of evidence-based and recommended educational practices by Special Instruction providers and parents.
Content for this page is selected with regard to the description of "special instruction" provided in Part C of the Individuals with Disabilities Education Act (IDEA), as well as evidence-based and recommended practices in early childhood special education. In addition, consideration is given to the significant role of Special Instruction providers in addressing Office of Special Education Program (OSEP) identified outcomes for children and families.
<![if !vml]>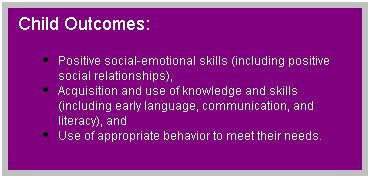 <![endif]>
<![if !vml]>

<![endif]>
From the Special Instruction FYI page you can access:
An annotated index of on-line resources related to special instruction that includes news letters, magazines, research briefs, courses, position statements, FAQs, concept papers, fact sheets, etc. Each item is linked to take you directly to a document that can be downloaded free of charge. The index will be updated and expanded as new resources are identified, so please visit often. (Click Here)
"TECS Messages" a series of briefs on special instruction topics. (Click Here or image below):